14th Annual Riggsby Lecture: "The Crown of Aragon and the Mediterranean"
Wednesday, 25 October, 2017
Núria Silleras-Fernández, Professor of Spanish and Portuguese at the University of Colorado, Boulder, will give the Marco Institute for Medieval and Renaissance Studies's 14th Annual Riggsby Lecture on Medieval Mediterranean History and Culture. Dr. Silleras-Fernández's talk is titled "The Crown of Aragon and the Mediterranean: Politics, Gender, and Culture."

While the emergence of Mediterranean Studies is providing welcome revisions, and transforming our approach to understanding the Medieval and Early Modern periods and the development of the pre-Modern West, it has tended to focus on certain aspects of history, particularly the relationship between different ethno-religious or ethno-cultural communities (for example, Christians, Muslims, and Jews), and on politics, economics, social structure, and religion. While this comparative approach is welcome, dynamics within each of these larger cultural affiliations have attracted less attention, including, for example, the effect the Mediterranean human environment had on the dissemination and development of high culture, and the role of women in politics and as cultural patrons.
The Crown of Aragon, a dynastic aggregate that included much of the Iberian Peninsula, parts of what is now southern France, much of present-day Italy, and territories in North Africa and Greece, provides an excellent medium for studying these questions. The Crown of Aragon comprised a geographically dispersed, institutionally independent, and culturally and linguistically distinct principalities that happened to be ruled over by a single individual. This created certain challenges for a pre-Modern monarchy, certain opportunities for female royalty, and gave rise to a framework of cultural dissemination that crossed ethnic or national lines.
The lecture begins at 5:30 pm in the Lindsay Young Auditorium on the first floor of Hodges Library. A reception will follow in the Galleria area outside the auditorium. The event is free and open to the public.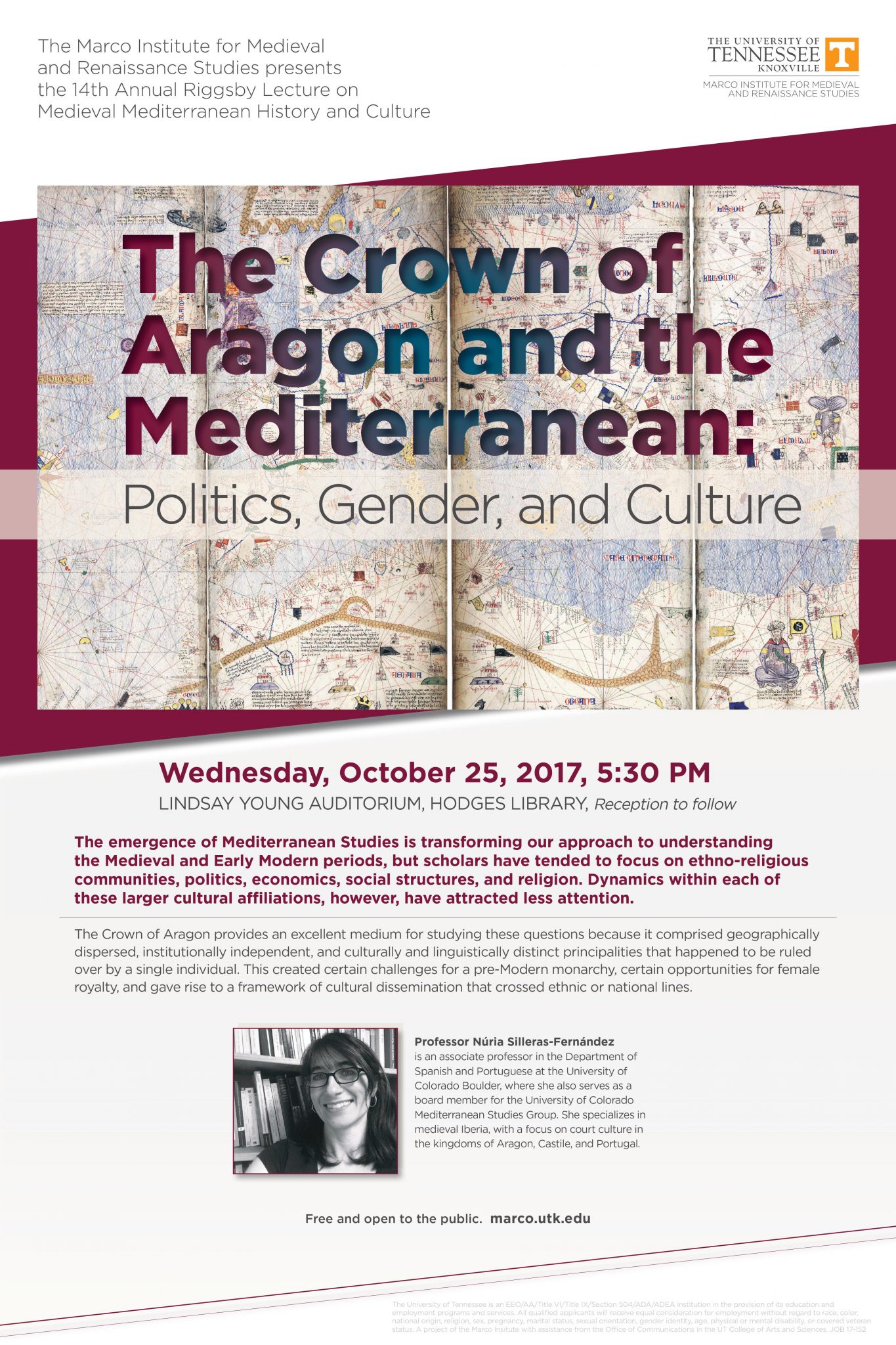 Event Contact
Katie Hodges-Kluck
Phone: 865-974-1859
Website:
Click to Visit